Today: another Seen In The Wild blog post, but this time with a twist: at the end there's some Heard In The Wild…
Stein
The Stein in the title of this blog post is not linked to Stein bei Nürnberg, where Faber-Castell's headquarter is. The first part of this blog post is about Rick Stein, a famous British TV chef. In his latest BBC series, he explores Mexico. As usual, he writes down recipes. In his series about China, he used a pencil, shown in a previous blog post. This time he used a Lamy Safari (open images in new tab for high resolution).
(Images © BBC)
Lamy
He's not the only celebrity using affordable Lamy pens in public: Nick Hewer, from the UK version of The Apprentice does so, too. In reality, people using Lamys in public are a rare sight, at least where I live. I remember seeing someone from a British university (but who is not British) using a Lamy Safari Lime Green Fountain pen at an SAP course I attended in Ireland in 2008. In recent years I have (twice) seen Chinese students using Lamy Safaris at my University/employer. If I add it up I have to say that I've only seen Lamys being used three times, in the last ten years, on the British Isles, but all three times the user wasn't British. Parker on the other hand… if I wanted to count Parkers I've seen in the wild, that would be a very high number.
Two Pencil Museums (One Real, One Fake)
Since we were talking Rick Stein and British TV: There seems to be this idea that museums, and most of all pencil museums, are very boring. This seems to be a recurring theme, especially in comedies and sitcoms.
Here's an animated gif from a very recent episode of a TV show with Johnny Vegas: Home from Home.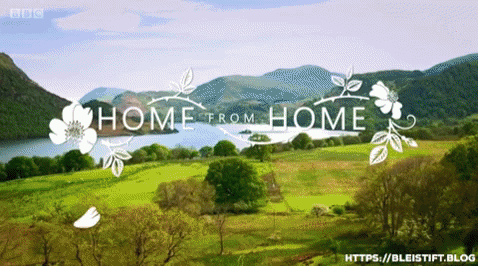 (Image © BBC)
In another show of his, Travel Guides (episode Lake District, 2015) from ITV, there's a conversation spoken in very ridiculing tone:
I can't believe this is a museum on pencils.
This is the only pencil museum in the world.
Back to the BBC. In episode Black Eye of the BBC comedy Coming of Age (2010) there's even audience laughter to make sure the viewer understands that going to a pencil museum is a ridiculous thing sane people wouldn't dream off.
Imagine all the lovely places I'll be able to drive you.
Like the pencil museum! Ooh!
Imagine that, Jas. Pencil museum.
Wow. What a treat(!) (Audience laughs)
Let's speed things up a bit: Movie Sightseers (2012)
I know how much you wanted to see that(!).
In case you are wondering about the exclamation mark in brackets. In subtitles, at least in the UK, that's a sign for irony or sarcasm.
..and back to the BBC. Grumpy Old Holidays (2006). Please don't forget to imagine the ridiculing voice when you read this. The idea is no one would go there unless the weather is horrible.
I have something to do with the weather, I am the rain goddess. 
They always say to me, "The farmers will be so grateful." 
And I say, "Fuck the farmers."
The Keswick Pencil Museum in Keswick must have, you know, oh, they must
look out of the window every day 
at the Pencil Museum and go, "Look at that, you can see the isobars 
"huddling together, we've got five days of continuous rain 
and storms coming- ker-ching!" 
Because, God bless it, your first port of call on holiday wouldn't be 
a pencil museum, would it, normally?
There are hundreds of lovely rainy day attractions and activities 
like this to immerse yourself in.
It's not like it's just pencils. It's different coloured pencils. 
It's different sized pencils. 
Pencils you can pencil with, even.
..but now people even invent fake pencil museums to make fun of when they are in a place without a pencil museum. In this case Jeremy Clarkson, Richard Hammond and James May. For their Amazon show The Grand Tour they were in Luzern in Switzerland. They need a museum that incorporates boredom while they visit a chess museum so they pretend there's a pencil museum near Luzern. The point in this episode is that no one would go there, but the museum supposedly has a charging point for Richard Hammond's electric car, that's why he keeps dragging them to boring museums.
Well, let's end on a positive note: Keith Houston, the author of Shady Characters (2013) had his recent book The Book: A Cover-to-cover Exploration of the Most Powerful Object of Our Time presented as Radio 4's book of the week. For the next few weeks, you can listen to all episodes online at https://www.bbc.co.uk/programmes/b0b2hr55.
Well, the BBC is a multifaceted being and while one part makes fun of boring things another one makes fun of boring things as well but supports them. In this case James Ward's series The Boring Talks. You can find more about James Ward in these previous blog posts.
---
The image in this blog post has been taken from different sources, as attributed under the images. I believe that the use of the images shown in this blog post falls under "fair dealing" as described by the UK Copyright service.